Why Should Businesses Share Files?
Both online and offline businesses strongly lean on organized teamwork. It is the number one factor to achieve the set goals. There are various ways to reach the needed internal and external collaboration in business. One of the best ways still remains the online file sharing strategy. The demand has grown recently due to the Covid-19 pandemic when the entire working process was organized online. So, file-sharing became a vital part of a workflow.
Due to modern advanced technologies, file sharing on an online platform has become more simplified. This enables more businesses, teams, and individuals to organize their working processes correctly and smoothly. Especially, if you run a WordPress website then getting a file sharing option in addition to WordPress' default functions is as easy as falling off the log.
If you want to know more about this topic, then keep reading the article which will tell you why should businesses share files and which is the best WordPress file manager plugin to reach the main outcomes.
What is File Sharing?
So, this is a process of enabling a person or a group of people access to digital files including documents, images, audio, videos, etc. This is not only a common practice in the business-customer relationship but also more often than not it eases the team workflow and leads to the project's completion without any hassles.
Today digital file sharing process is becoming more and more simplified. Even though some companies still prefer sharing files with the team through Email it is important to point out the security issues this method can probably cause. Along with this problem, it is also difficult to find out the latest version of a certain document to share.
All of these points can be avoided by simply using file sharing software or a download manager to organize and manage the processes automatically.
Why Should Businesses Share Files?
As mentioned before businesses use file sharing methods to increase communication, collaboration, and smooth working processes in the team. And if sharing documents was a big activity consisting of sequential steps today it is a matter of a few clicks. This is why file sharing has become more affordable and accessible for almost all businesses. So, why should businesses share files? Let's see the benefit list.
It is cost-effective. This means that due to today's advancements, businesses do not have to share files through traditional methods, such as paper printing. Online digital file storage helps companies. to essentially reduce administrative costs. The most important aspect is that this solution is affordable for both small startups and big companies through the availability of different types of cloud solutions.
Approves smooth collaboration among the team members. Sometimes printing documents and delivering them by courier not only hits the company in the pocket but also takes too long to serve its purpose. Instead, digital file storage and sharing benefits the collaboration speed by helping the team get rid of unwanted delays by immediate document access.
Eases Project management. File sharing is a good variant to ensure smooth project management especially if you deal with hundreds of employees in the same company. Since all the files are gathered in a single storage, it is always easy to see the project's progress, keep communication with colleagues, and reveal the "Done" work among the "Pending" ones. So, the advantage of online file sharing is enabling the team to strongly meet deadlines.
File sharing meets security maintenance. Using file sharing software is a great option to keep your files secure. This is because the files are uploaded to a single storage. So, the probability of the company's resources and information's flown is almost impossible.
The option is great for having a centralized data source. File sharing enables team members to always track the shared data in one place revealing which is the file's latest updated version, who worked with the documents and make some edits, etc. All in all, the stakeholders can surely trust the file sharing software to keep the mutual documents secure.
You can even store large files. In case of larger file sizes, team members are not always allowed to send them through Email. This is a real problem that can be easily solved through file-sharing software.
It makes business audits quicker. The crucial part of any company is the resulting audit. Here some office managers or business owners get frustrated. Using a file sharing option it will be very easy to search for documents or multimedia.
Why Do Businesses Have to Focus On File Sharing Security?
Along with its huge advantage package online file-sharing increases security issues. One of the common cases is accessing shared files with an unsecured device which in its turn causes file loss and stealing. All of us know how this type of data flow can damage the company's reputation and relationship with loyal customers or B2B partners.
To avoid these situations, it is important to focus on file sharing security by choosing safe and well-functioned software. And if you use WordPress, then we have a great plugin recommendation for you. Here is the Shared Files Pro plugin.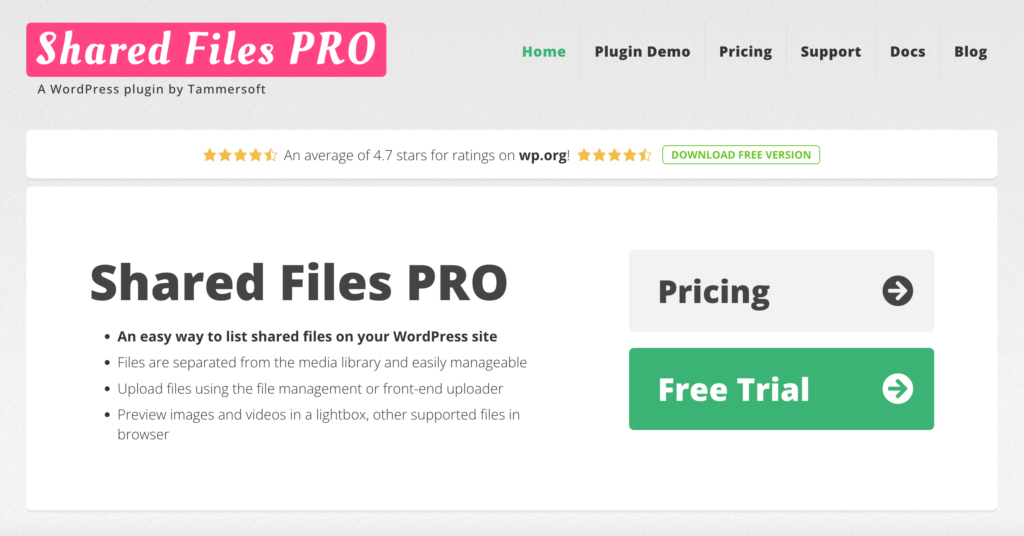 Let's see how this WordPress download manager plugin works!
How to Share Files on WordPress?
Although WordPress is a great Content Management System with lots of benefits even for non-tech-savvy users, it only enables them to upload files to a Media Library. So, the platform does not support WordPress file download without the usage of WordPress plugins.
So, if you want to share and manage your downloadable files then the Shared Files Pro plugin is your best choice.
Shared Files Pro Plugin
Even if you do not want to invest in the file sharing option to be added to your WP site you can still benefit from the Shared Files plugin' free version that is currently available in the WordPress Plugins directory.
For those who want to get more of this plugin's features, its developers offer cost-effective pro version packages.
Main Features
The main features for which you should choose the Shared Files Pro plugin are the simplified way of listing files on WordPress and the good use of a separate manageable media library for the shared files.
The uploading process can be done either with file management or a front-end uploader. The latter is very handy and ensures the best user experience in the whole file sharing and management process. Besides, it saves your time enabling you to preview the media files in a small lightbox. Another beneficial feature is the search filter availability for easy navigation.
WordPress File Sharing with the Shared Files Pro Plugin
The Shared Files Pro enables a smooth and quick file-sharing process. For this, you need to first activate one of the plugin's versions. After that, you will be able to "Add New Files" to your separate Media library and configure the sharing options.
The first thing you should do is to create a new shared file and upload it with a maximum size of 999 MB or just insert a file URL from an external source.

Here in the dashboard, you will meet different actions you can complete with the created files:
Limit downloads (limits the number of downloads per file)
Restrict access for some users
Password protection for a file
Restrict access for some user roles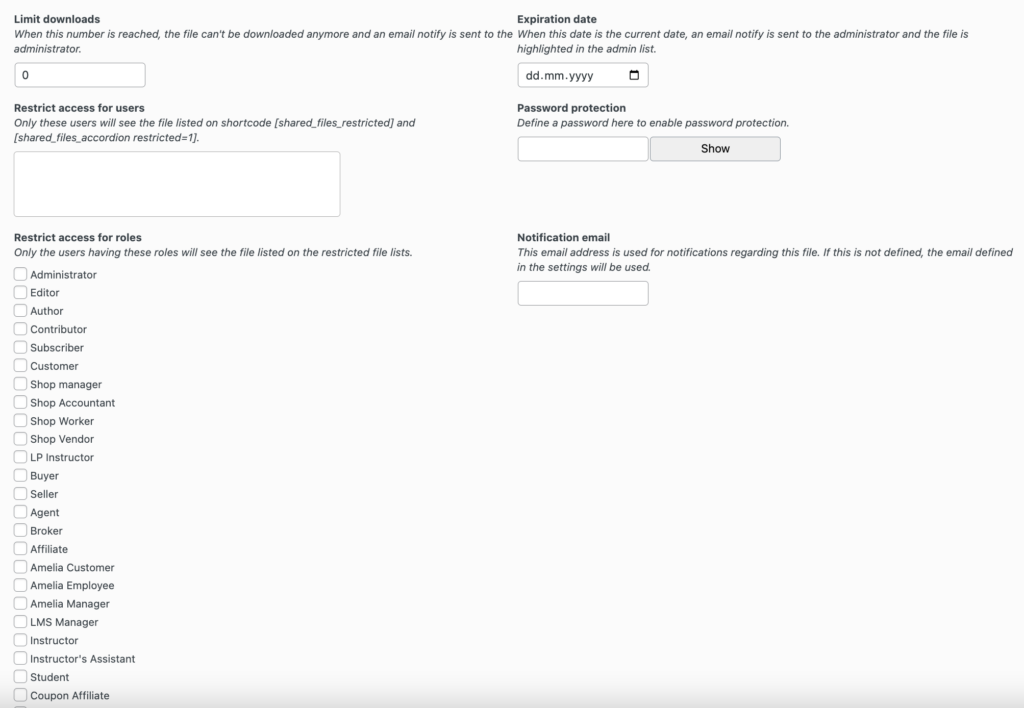 To make the search process easy, you are able to put the files into categories and add some tags.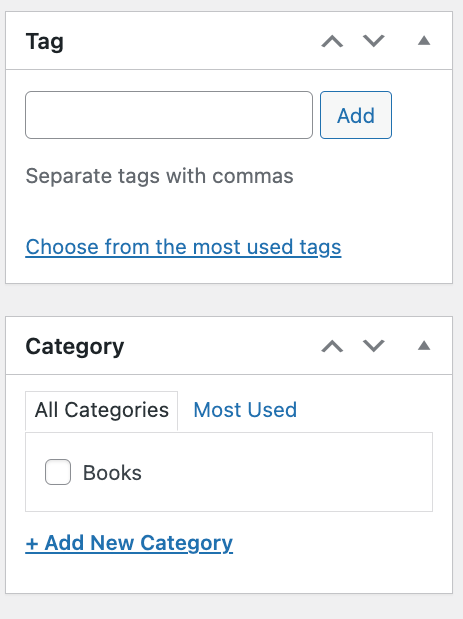 After making all the needed changes to the uploaded file, you need to publish it with just one click.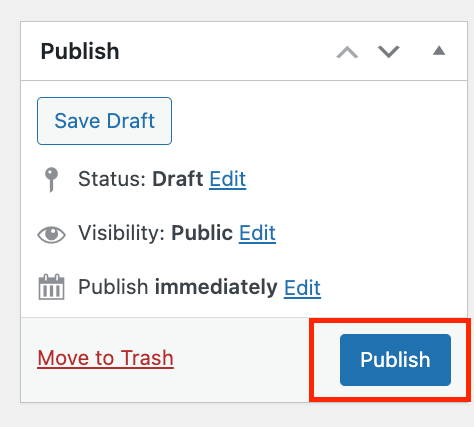 The plugin enables sharing files on WordPress in a beginner-friendly way using a default shortcode available. For the final file sharing process, you have to copy the available shortcode for each document and paste it into your WordPress website's page or post and publish it with a set of custom functions inside.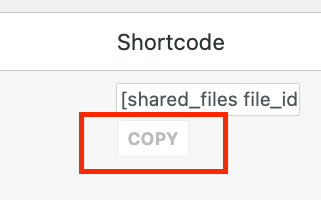 As you see, you do not need to be a programmer to work with the plugin. Everything is developed and offered for your easy navigation and quick setup process.
So, taking into account the provided features, we may assert that the WordPress Shared Files Pro plugin is a very handy, affordable plugin adding sharing and file management options to your WordPress site.
To Wrap Things Up…
So, in this article guide, we have discussed a great topic that benefits almost all businesses on an online platform worldwide. A smooth file-sharing process is advantageous for productive teamwork as well as the company's security. To wrap things up, let's point out the most important aspects of sharing files on WordPress:
Saving time and funds
Smooth workflow among the team members
Productive and quick project management
Centralized secure database
Large files storage
Simple document audit
To reach these results we offer you to activate a highly secure download manager and file sharing plugin – Shared Files Pro. Its user-friendly interface, logical settings structure, high-level technical settings, customization tools, and beginner-friendly shortcodes are what you need to make your WordPress file sharing process easier than you might even think.