How to Create Password-Protected Files in WordPress with Shared Files Pro?
When you buy a new device or create a new Social Media account you definitely set strong password protection for it. This is a mandatory step toward your data security. So, is in the case of uploaded files on WordPress. Surely, in some cases, you will like users to download the documents on your website by making them visible and accessible to everyone. Yet, in some events, you may upload files to WordPress for download carrying sensitive information that should be available only for a certain group of users. This is where password protection comes in handy.
So, how can you put a password on documents for extra protection? WordPress has solved this problem for its users. Luckily, there is a great WordPress file sharing plugin – Shared Files Pro to help you create a secure password for your selected post within a few minutes. So, in this article, we are going to discuss the password protection system for uploaded files on WordPress and create password-protected files with the Shared Files Pro plugin.
Why Do You Need To Protect Files with Password on WordPress?
Applying an extra security layer to your downloadable documents is a crucial step to fulfill. Even though there might be some files you want other users to download from your website which in its turn raises the conversion rate and usability of your WP site, there might be some docs you want to be accessible only to the chosen visitors. So even if the hackers can get your main password they will meet an extra barrier to accessing the password-protected files. This can somehow discourage them to complete malicious activity on your website. Besides, files containing sensitive content or personal data will be extremely protected.
Also, a password with a high security level will help you to protect your shared files through email messages. Even though these platforms also take strong safety measures the messages which contain file attachment links can be a reason to lose important data to a 3rd party.
So, as you understood encrypting documents on WordPress is of high importance. Thus, read the next paragraphs to know how to create password-protected files on WordPress with the Shared Files Pro plugin.
Some Notes About the WordPress Shared Files Pro Plugin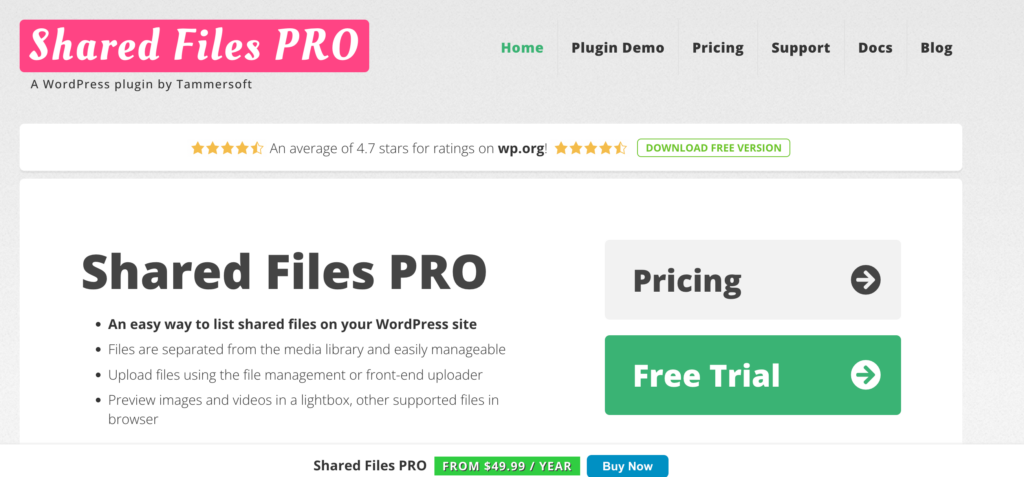 The Shared Files Pro plugin is a multifunctional WP file manager plugin. It provides simple file upload, listing, and management features even for a large number of documents on WordPress. The fact that you have separately added and controlled files from the WordPress Media Library makes the user experience easier and better.
As it enables viewing and downloading files directly in the browser as well as includes a lightbox view feature, this WordPress download manager plugin gives website owners a strong password-protection system to avoid malicious activities to their uploaded documents.
Even though there are great features included in the Shared Files Free Version, the password-protection function is available in all the plans of the Pro version. The packages are very affordable and the costs start from $49.99 per year.
In order to activate the plugin's Pro version, you should follow the steps mentioned below:
Download the Shared Files Pro zip file.
Enter the Plugin's Repository from your WordPress Admin Panel.
Upload the zip file there.
Fill in the license key received after making a purchase.
Activate the plugin.
After getting one of the Pro packages, you are ready to not only manage your downloadable files but also protect them with strong passwords by taking a few easy steps.
How to Create Password-Protected Files in WordPress with Shared Files Pro?
In order to enable the password protection option, you should first configure it from the plugin's "Settings".
So, you should enter your Shared Files Pro plugin's "Settings", then find the "File upload" section. After entering this section, you will find the "Allow the uploader to define a password for the file" function. So, you have to enable it for putting passwords on the uploaded documents.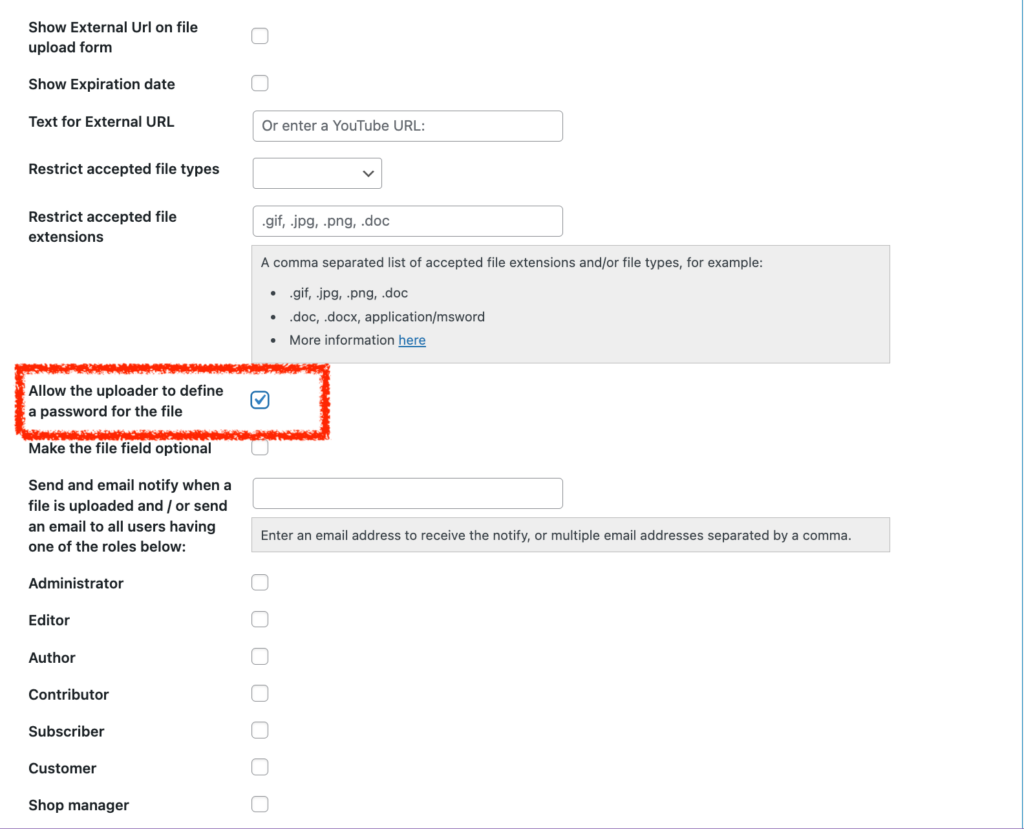 Also, you can enable the preview for password-protected files from the "General settings" section.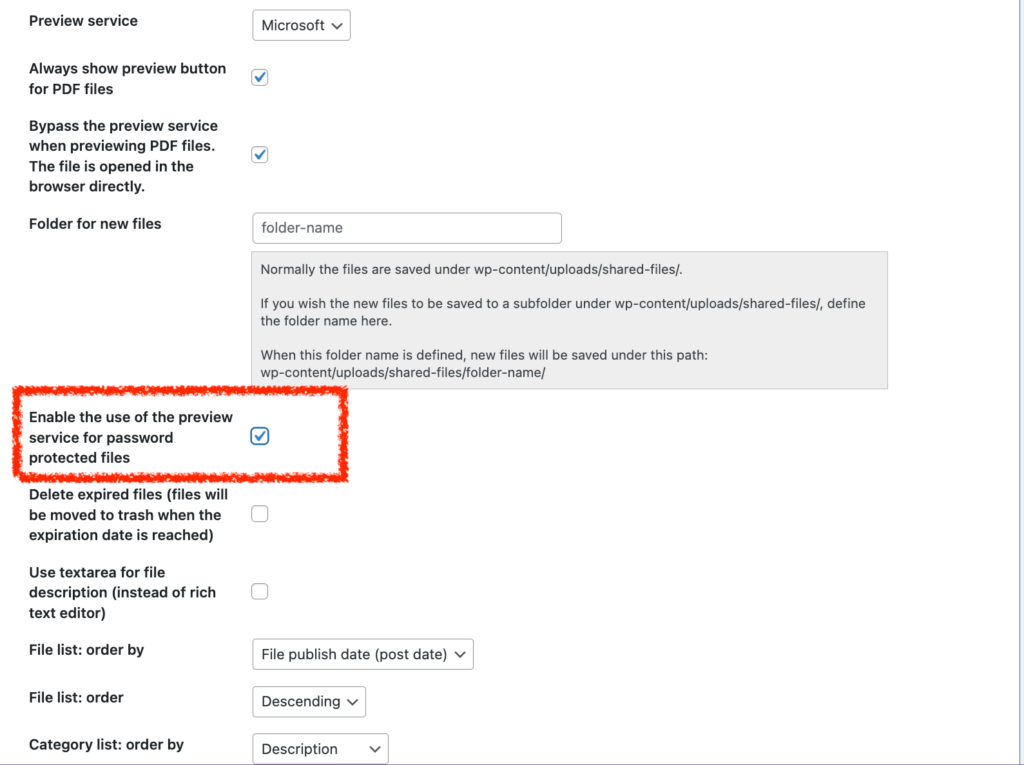 As well as you are able to show a featured image to these documents with ease by allowing this option from the "Layout" section.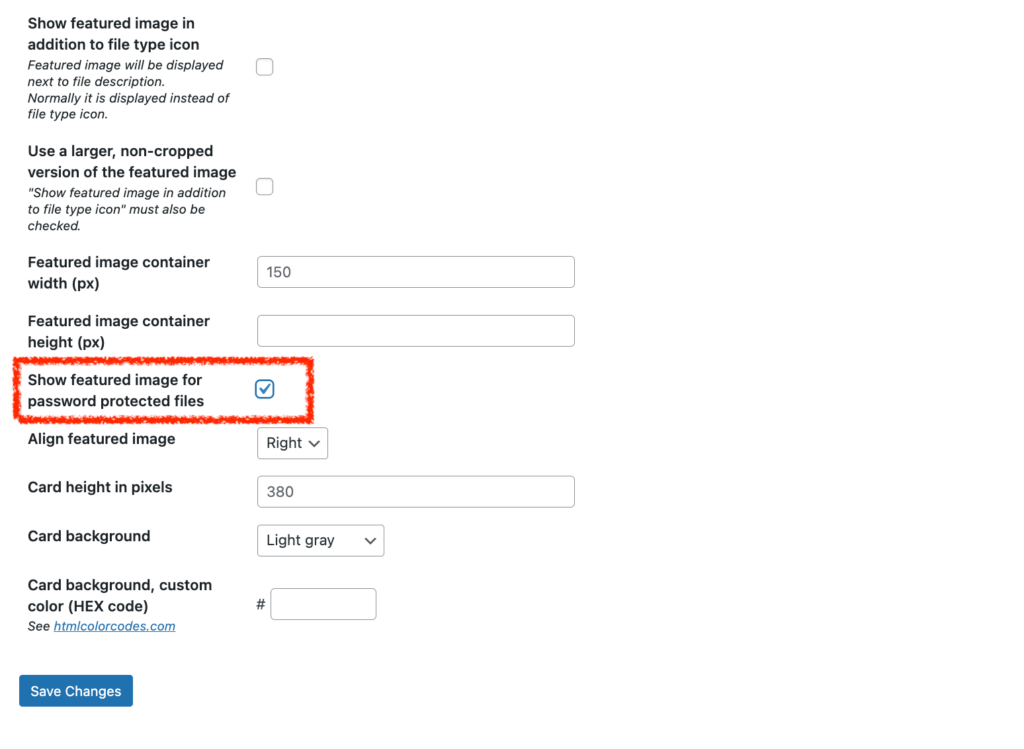 Creating a New File to Your WordPress Site With File Protection
So, after making all the needed configurations, it is time to add a new file by setting a strong password to increase the security level.
Here are the steps to complete:
Step 1
Enter the "Add New" section from the "Shared Files Pro" plugin's submenu. Here you have the "Add multiple files" feature in case you want to upload more than one document simultaneously.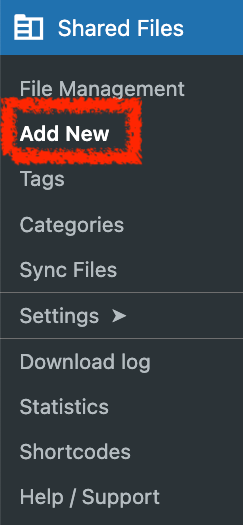 Step 2
Here you have to fill in the following boxes:
File title
Files info

Add file from your device
File date to show it instead of the publication date
External link that will replace the file uploading process by showcasing directly the file location
Download limit
Expiration date
Restrict Access for users and roles
Notification email
Password Protection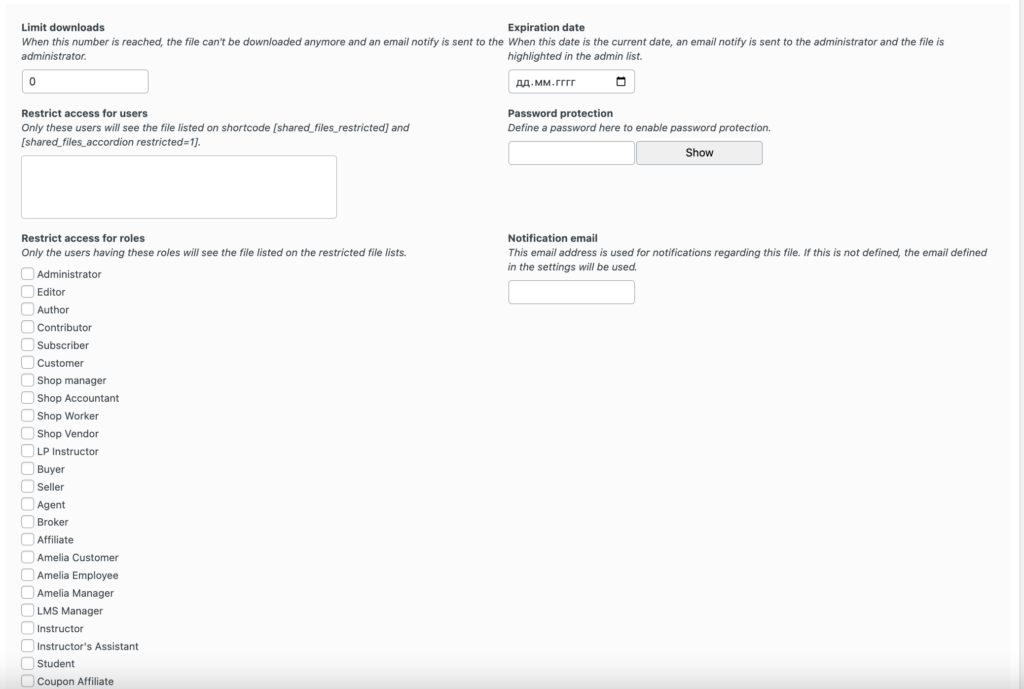 Step 3
In the "Password Protection" section you have to define a strong password to enable the password-protection feature for a certain file or multiple files.

Step 4
After publishing the newly added file, you have to take its shortcode and paste it wherever you want on your website. Then publish the Post/Page with the uploaded password-protected file.
Here is what the users see when entering the file to download it.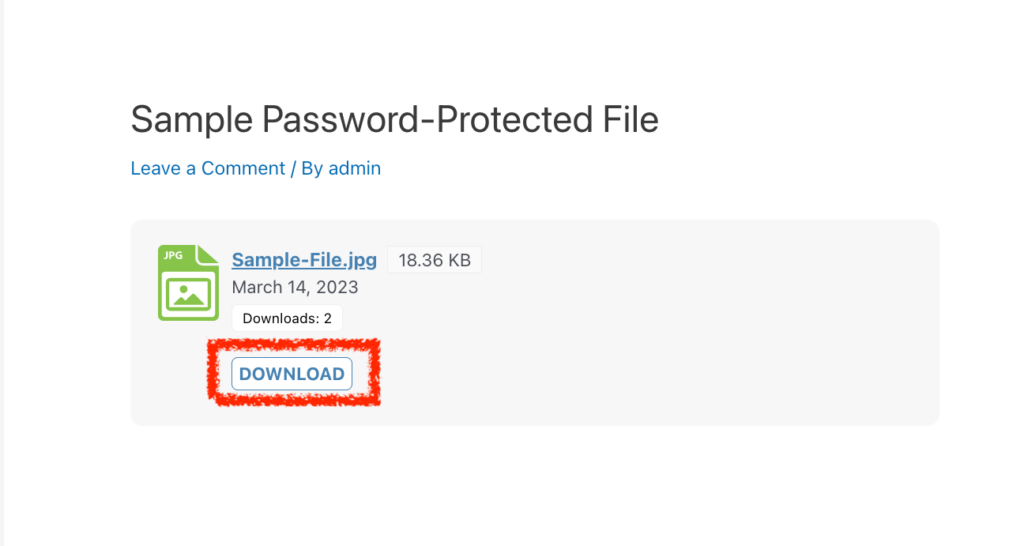 After pressing the "Download" button they are required to "Submit the Password" to proceed with the file download process.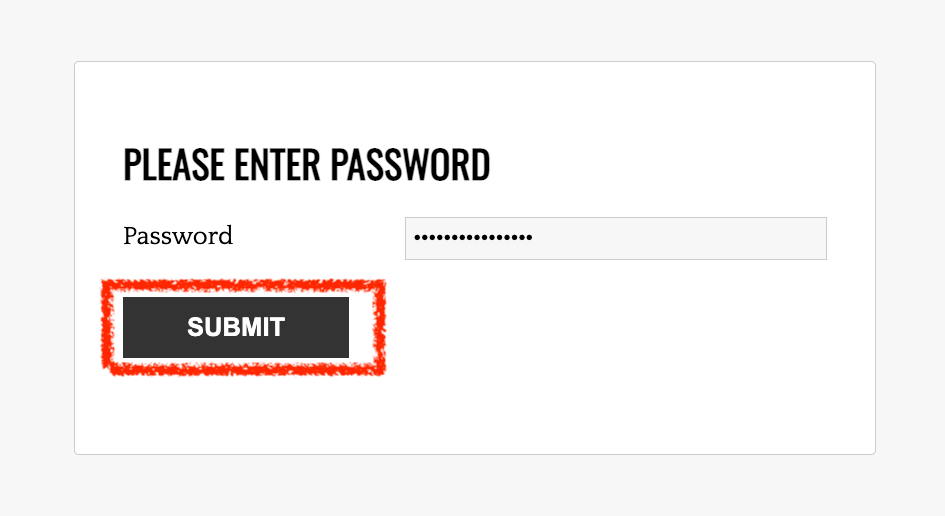 That's it!! Here is a simple, fast, yet very powerful protection to increase cyber security for documents on your WordPress site.
To Wrap Things Up…
According to statistics, the detected thefts on online platforms have increased to 68% in 2022. Unfortunately, the majority of cases are related to website fraud which means that your unprotected files are desired targets for cybercriminals. In this case, your documents and files are at high risk. So, especially taking into account the wide usage of electronic transfers, additional file security measurement is a must.
Even though WordPress offers different methods to minimize the vulnerability risks and attacks on your website you may use password protection to approve your file safety. So, in this article, we have discussed how to create password-protected files with a feature-rich file sharing plugin for WordPress. This multifunctional tool provides not only an easy and simple front-end uploader but also takes good care of your files in a security aspect. Thus, getting the Shared File Pro plugin at a very affordable price will be a perfect solution for the WordPress file and document management process.