Top WordPress ChatGPT Plugins for 2023
ChatGPT is probably the most discussed tool starting from the previous year. Indeed, it has a leading role in the market taking it by storm. Many well-known software and companies have integrated ChatGPT into their products so that it eases the user experience on their websites. WordPress also follows the trend by offering a wide variety of plugins with ChatGPT access. So, in this article, we will show you up the top WordPress ChatGPT plugins to use in 2023.
Is ChatGPT Plugin Beneficial For Businesses?
It is important to mention that publishing SEO-friendly unique content written by human can not be fully replaced by the one created with AI. However, human-made content takes time, effort, and much money especially if you have many tasks simultaneously.
This is where ChatGPT comes in handy. Thanks to advanced artificial intelligence technologies, plugins having ChatGPT integration tend to quickly generate your desired content that will take you nothing yet approve fast and readable content for your website.
Besides, it is very advantageous to use these plugins on WordPress enabling you to build smarter contact forms, improve Search Engine Optimization strategy, and integrate chatbots for live cooperation. Going too far, ChatGPT can also generate basic WordPress plugins, and WordPress theme's core codes, as well as troubleshoot WordPress development issues.
So, as you see, ChatGPT is a new but very promising tool to benefit your business.
Now, let's understand how ChatGPT works with the best CMS platform– WordPress.
Top 5 WordPress ChatGPT Plugins for 2023
At this point, we will get acquainted with the best WordPress ChatGPT plugins that tend to implement AI technologies in your website.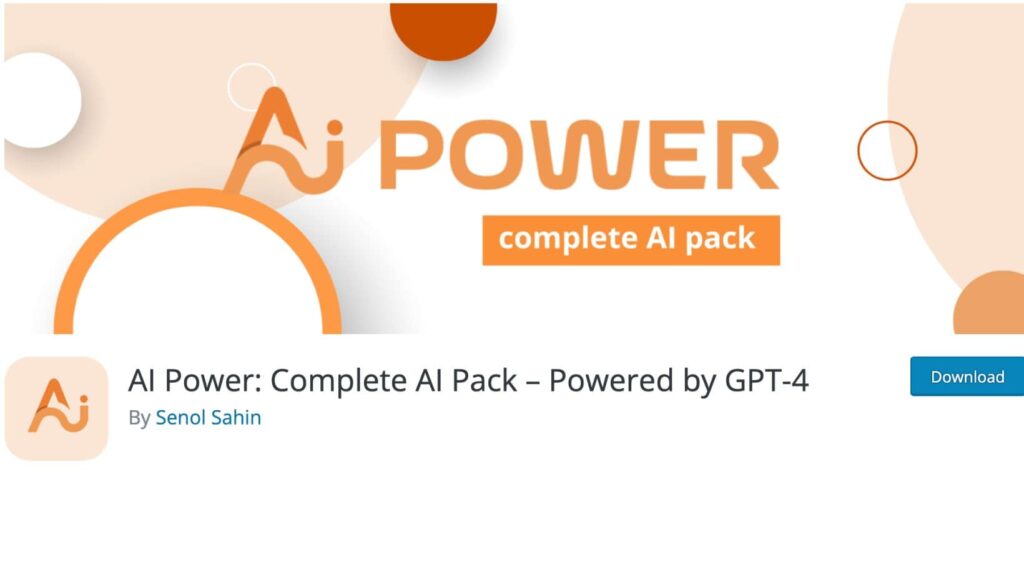 The first plugin from our list is AI Power which is powered by GPT-4, GPT-3.5-TURBO, and GPT-3.5-TURBO-16K. The plugin scores more than 10,000 active installations and 116 5-star ratings.
AI Power is a comprehensive plugin enabling the generation of content, media files, forms, etc. The plugin offers various helpful tools, such as:
Content writing tool
Autoblogging
Image generation
PDF chat
WooCommerce product description writer
AI Assistant integrated with the Classic and Gutenberg Block Editors
Audio Converter
Chatbot customization through embeddings
FAQ and Knowledgebase builder
SEO optimization options
AI Forms, etc.
One of the most important features of this plugin is that it can train your chatbot with your product information and website content. Besides, the WordPress AI Power plugin is multilingual and supports more than 40 languages.
The plugin offers a totally free version on WordPress's official website. Yet, to get such features, as content writing with keywords and links, Google Sheets integration, post scheduling, AI consultation, etc. you need to activate one of the two monthly paid plans available:
Pro – $7.99
Enterprise – custom price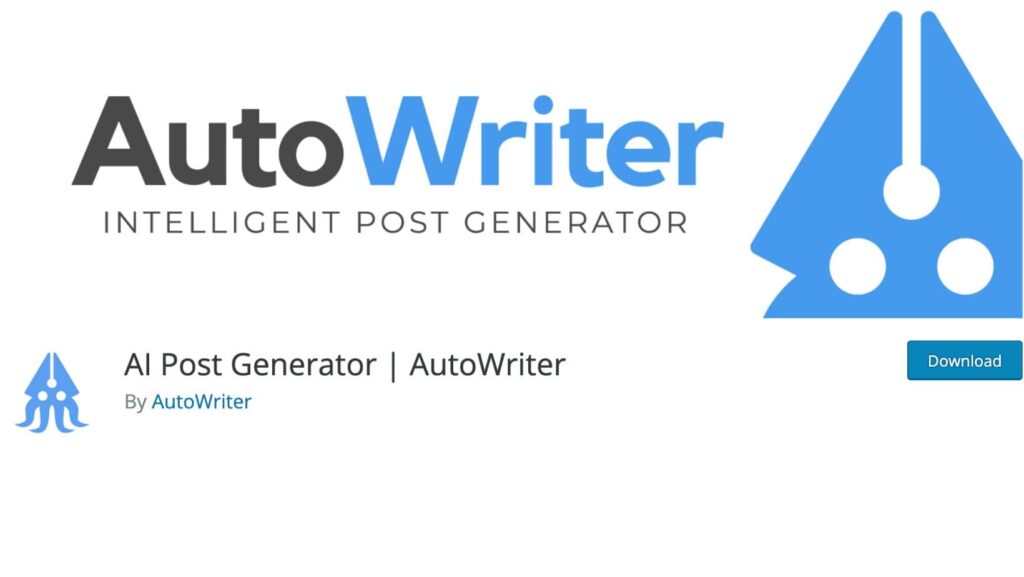 As mentioned before AI eases the website content creation process enabling you to get highly readable and interesting articles. One of the advantageous plugins that allow to generate high-quality articles is AI Post Generator.
Currently, the plugin scores more than 1,000 active installations and a 5 out of 5-star rating. Working with the AI Post Generator plugin is as easy as pie. You need to just write the article title as a prompt and the plugin will generate the whole content for you just in an instant. Besides, this tool will provide you with a table of content as well as a unique post cover.
Moreover, the plugin supports many languages worldwide. The built-in state-of-the-art natural language processing technology is so smart that the tool is ready to create articles in any language in which you write the title.
The free plan of this auto-writer plugin allows the users to generate 5 posts per month. However, to enhance the feature up to 100 posts per month, you need to activate one of the three available pro packages:
Starter Plan – €7.99 per month
Premium Plan – €12.99 per month
Golden Plan – €19.99 per month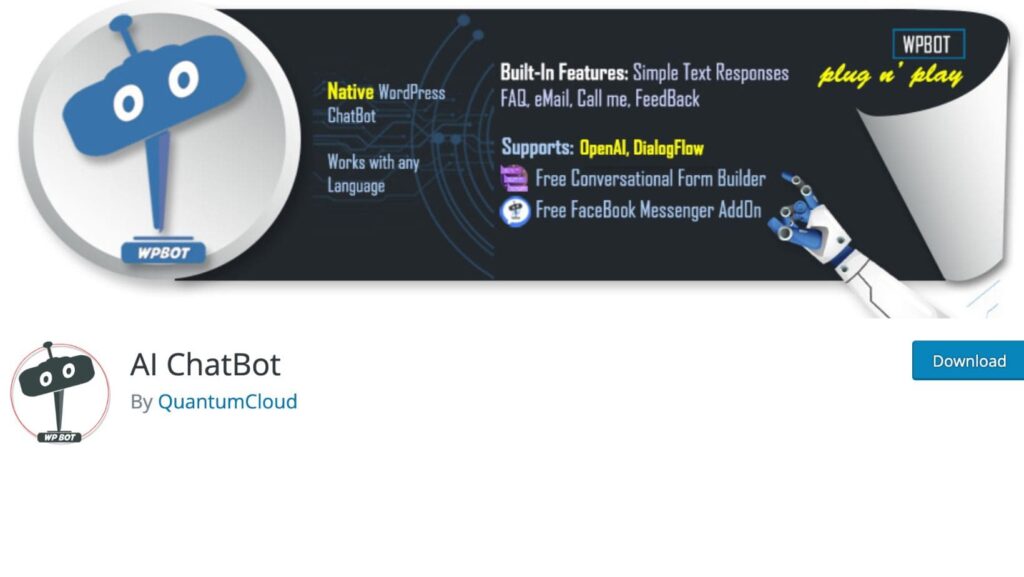 The next plugin is AI ChatBot which is a no-coding-required tool for WordPress. The number of active installations is 4,000+ and it rates more than 80 5-stars on WordPress Plugin Repository.
With this plugin, you can create and manage your own ChatBot directly from the WordPress Dashboard. The tool is powered by ChatGPT and DialogFlow. Despite its advanced features, you do not need to have technical skills to use the plugin. In just a few steps you will have the plugin activated on your website and after that, it will start chatting with your clients, and display the canned responses and FAQs created in the back end. Besides, activating this plugin on your website will give you an opportunity to receive the users' support-related emails and collect their phone numbers. This is not only a great way to provide a large-scale support service but also a perfect method of lead generation.
The WordPress AI ChatBot offers a wide range of 3rd party integrations with famous chatting systems like tawk.to or Facebook Messenger, etc.
The AI ChatBot plugin benefits your website in many ways, such as increasing the users' stay time on your website, receiving more page views, providing your customers fully automated conversational experience, etc.
The main part of the plugin's features are available in its Free version. Yet, to enjoy more professional options, such as onsite retargeting, email address collecting system, etc. your ideal choice will be one of the below-mentioned pro plans:
Starter – $49 per year
Professional – $99 per year
Master – $189 per year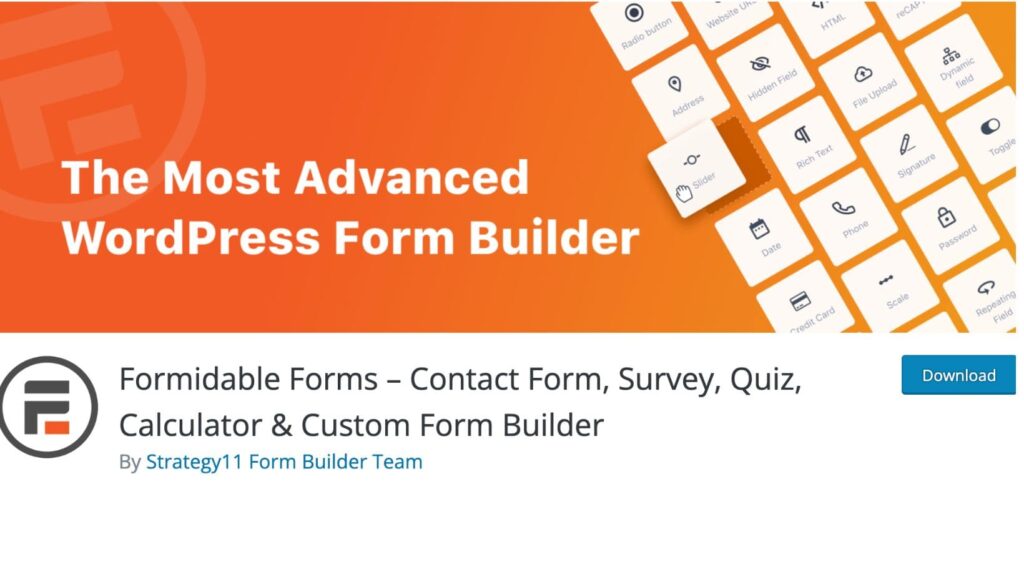 Being quite famous as a WordPress form builder plugin Formidable Forms walks with the latest technological innovations implementing ChatGPT in its beneficial features.
Scoring more than 300,000 active installations and 884 5 stars on WordPress, this plugin offers game-changing AI-powered features to benefit your website workflow.
The AI field within this WordPress form builder plugin offers:
Live customer support – helping you to reduce the number of support requests through the support service powered by Artificial Intelligence.
Assistant for customers' sales – assisting your online clients in making purchasing decisions.
AI-generated content suggestions – generating blog posts, website content, WooCommerce product descriptions, etc.
In other words, Formidable Forms' AI Integration helps to approve better customer experience at any stage of website operation.
Along with its free version, the plugin offers 4 pricing plans to benefit from:
Basic – $79
Plus – $199
Business – $399
Elite – $599
5. All in One SEO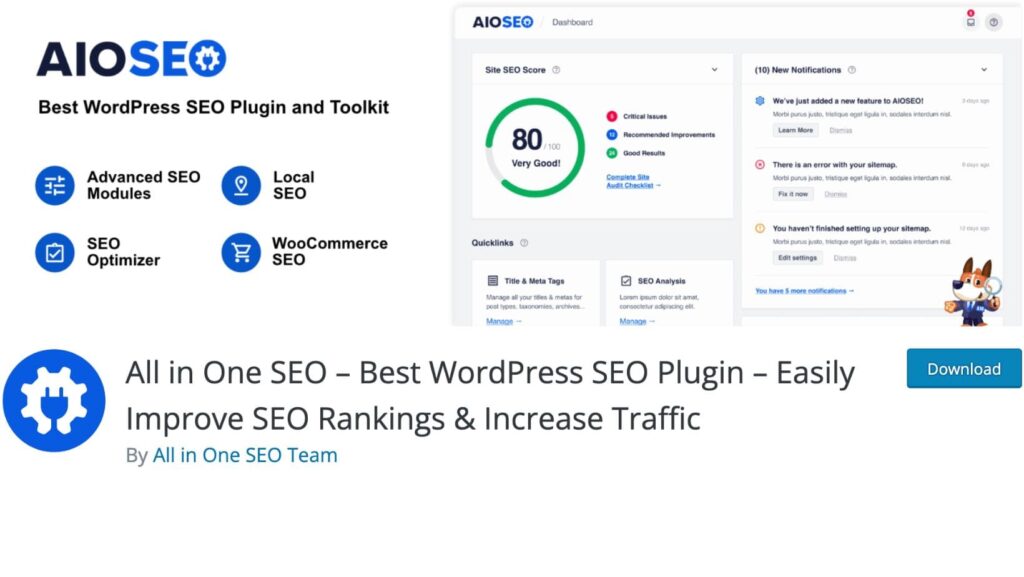 Last but not least plugin from our list is quite popular among WordPress users. In fact, All in One SEO is one of the widely used SEO plugins for WordPress. It scores more than 3 million active installations and 3,235 5-stars.
Although we may assert that AIO SEO offers irreplaceable SEO tools to optimize your website, we are here to look at the AI-powered features of this plugin.
So, if you used to spend time and effort choosing a great and catchy title for your articles or meta descriptions then the plugin comes to help you. The All in One SEO plugin generates title and meta description ideas to attract more clicks to your website posts. In this case, the plugin uses Artificial Intelligence to easily improve your website's SEO ranking. So, instead of hiring a copywriter to write eye-catching titles or short meta descriptions, you can totally lean on this plugin.
In addition to its free version the plugin developers offer you to activate the All In One SEO plugin's advanced features at this pricing:
Plus – $99.60 per year
Pro – $199.60 per year
Elite – $299.60 per year
Summary
Coming to the end of this article, we would like to separately present the benefits you will receive when using ChatGPT on WordPress.
So, ChatGPT assists WordPress site owners to improve their website operation in many aspects, such as content creation, Search Engine Optimization, Customer Support Assistance, and even plugin and theme recommendations. Chat GPT has been developed and enhanced its professional option enough to help WordPress site owners troubleshoot websites and approve high security to it.
Thus, ChatGPT integration with WordPress has multiple usages. It saves you a lot of time yet do not put the work quality at risk. Besides, the chatbot powered by Artificial Intelligence interacts with your website users and provides high-quality support in an instant.
In this article, we have offered you various plugins with ChatGPT integration for different purposes. Starting from content and blog post generation to Search Engine Optimization and chatbot operation, these plugins do their best to provide the best user experience for WordPress site owners and visitors.
In the table below, you can compare the 5 top WordPress ChatGPT plugins for 2023. The price-features correlation will help you to easily navigate through the offered tools and find the best match for your WordPress site.
| Plugin Name | Active Installations | Rating | Pricing |
| --- | --- | --- | --- |
| AI Power | 10,000+ | 116 5-star ratings | $7.99 |
| AI Post Generator – Autowriter | 1,000+ | 4 5-star ratings | €7.99 – €19.99 |
| AI Chatbot | 4,000+ | 80 5-star ratings | $49 – $189 |
| Formidable Forms | 300,000+ | 884 5-star ratings | $79 – $599 |
| All in One SEO | 3,000,000+ | 3,235 5-star ratings | $99.60 – $299.60 |