5 Best WordPress Booking Plugins
In the past decades, people had to look for mobile numbers to contact the needed restaurant, shop, spa center, etc. to book an appointment. Today as digitalization is becoming more and more actual, almost any niche business uses an online booking system. There are a bunch of incredible features being added to online booking software and tools. Thus, if you have a business that needs the implementation of an online appointment system then you should go nowhere than choosing WordPress. This is a platform offering a lot of helpful booking plugins to manage the appointment booking service online.
Keep reading the article to find the best WordPress booking plugins for 2023.
What Are the Most Important Features of the Best WordPress Booking Plugins?
Even though the main characteristic of a booking option on WordPress is a simple calendar with an appointment form, each niche business requires a unique approach. For instance, if there is a business with multiple employees in the service then each of them should have a separate schedule featured on your booking site. The examples are different. Yet, some things remain crucial when choosing an appointment-making WordPress plugin:
The WordPress booking plugin must have customization options.
You need to add an appointment-making option anywhere on your website.
There should be available payment options in case you need an appointment prepayment or the total transfer beforehand.
Multiple agent support should also be included. This is especially important when a business has different workers presenting a wide range of services.
Booking date editing features for clients.
Filters and categories for easy navigation.
Email notifications for confirmation and booking date reminders.
Calendar imports with CSV and Excel formats.
These are the main features you should try to find in a great plugin. Let's dive into the 5 best WordPress booking plugins to find a suitable tool for your website.
5 Best Booking Plugins for WordPress
Now, as you know what kind of features you should try to find in the best booking plugin, you can highly benefit from the list below that we have carefully collected for your easy operation.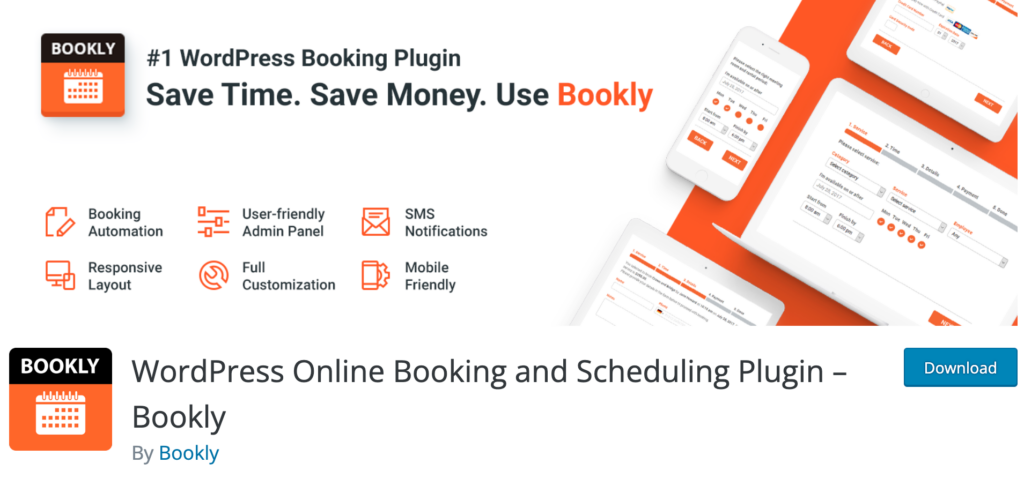 The first booking plugin from our list is Bookly. It scores over 70,000 active installations and 302 5 stars on the WP Plugin Repository. The numbers speak for themselves.
So, Bookly is a scheduling plugin that is free to use on your WordPress site. Its biggest advantages are the availability of online booking and reservation system availability. Besides, it allows you to manage your website booking calendar, different services, and customer base. In other words, using Bookly will save not only your time but also funds.
Bookly is designed to approve the greatest user experience. It is a user-centric plugin allowing your clients to schedule appointments, and make good use of the plugin's responsiveness by booking on any device. Besides, the search process through various categories, services, or employees makes the booking process even easier than you might think. The whole calendar booking process is hassle-free. This is because the plugin enables users to make appointments even with minimal contact details. By the way, the users receive reminders through SMS or Email about the reservations.
Not only the clients but also the company owners benefit from using Bookly. So, they can utilize the plugin even without having programming knowledge. They will be provided with an easy and quick booking option implementation process to grow their business sales effectively.
As mentioned above, the plugin is available absolutely for free on WordPress. Yet, to get advanced add-ons and professional experience when using Bookly, you can activate the plugin's Pro version at this pricing:
Regular License – $89
Extended License – $990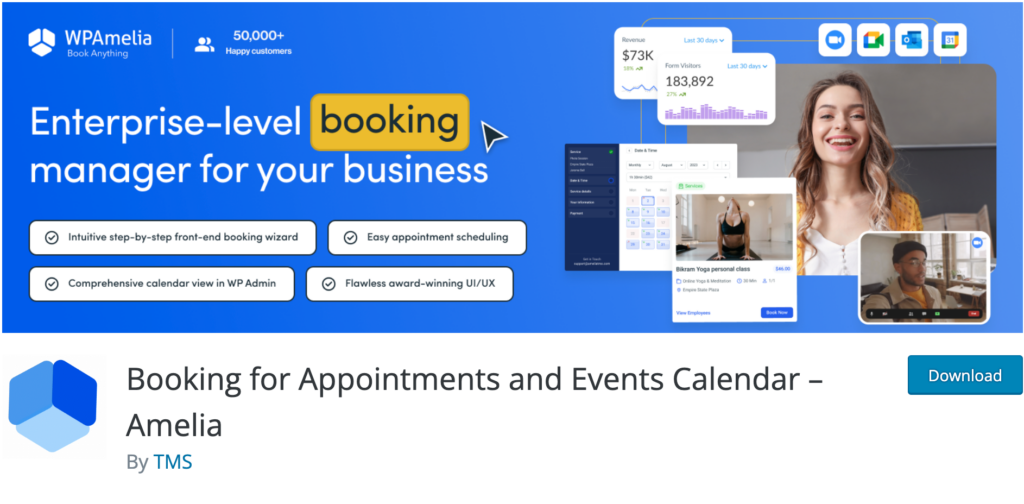 Presenting appointments and events booking system, Amelia has 50,000+ active installations and 377 5-star ratings on WordPress. With this plugin, you can automate the scheduling and booking processes on your website due to its advanced technological solutions and eye-catching intuitive design.
The plugin is mainly designed for salons, healthcare personnel, consultants, gyms, coaches, etc. It provides great UI/UX so that even non-tech-savvy business owners can highly benefit from the plugin's seamless features. The booking implementations are made up to be very simple through the 2 built-in shortcodes. The back-end view for the calendar is also very handy. As well as people may create events that last from one day to even multiple days.
The booking is confirmed through Email or SMS and texts are also customizable.
Amelia helps business owners avoid confusion by disabling the users to make double bookings.
This plugin is compatible with the three greatest page builders: Divi, Elementor, and Gutenberg. It can be easily customized. This is to match your brand's unique design.
The WordPress Amelia plugin offers two versions both free and paid. The Pro version with a number of advanced settings is available at this price:
Basic – $79 per year
Pro – $119 per year
Developer – $319 per year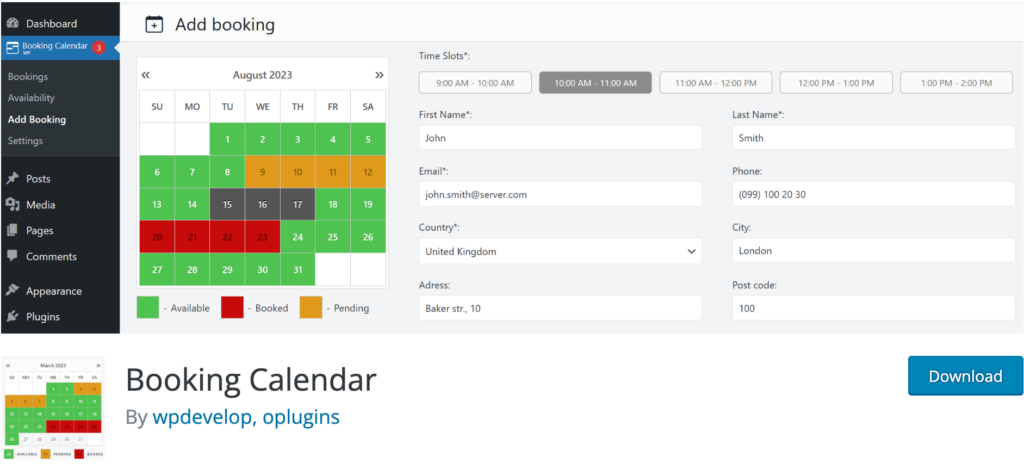 The next must-have booking plugin is Booking Calendar. It has got 60,000 active installations and 489 5-stars on WordPress Plugin Repository. Through this plugin, you can implement an exciting booking system on your website by displaying appointments calendar, getting bookings from your website users, as well as conduct booking management through an easy-to-use and centralized Admin panel.
With this plugin, you will not meet double bookings. This is because the WordPress Booking Calendar offers a booking synchronizer option to approve an up-to-date booking calendar. This plugin also integrates Google Calendar which enables you to add the booking dates or import them directly from your Google Calendar app.
To provide the best user experience, your booking website visitors are able to make an appointment on a certain date for a full day or a time slot. Moreover, website owners are able to always update the pricing system by offering seasonal prices.
The Booking Calendar plugin is 100% responsive. The plugin also supports various languages.
In addition to the availability of the plugin's free version, the Booking Calendar plugin provides paid versions, too. Here is the pricing:
Personal – $79
Business Small – $149
Business Medium – $249
Business Large – $349
MultiUser – $649

The Bookings for WooCommerce plugin is a bit different from the presented tools. This plugin is mainly designed for bookings and rentals on WooCommerce. Through this plugin, you can accept bookings based on the calendar for products included on your WooCommerce site.
The plugin enables business owners to implement bookable items on WooCommerce and set the available quantity for them. Besides, the tool will make the whole booking cost calculation on its own. Additionally, you are able to make synchronization through Airbnb, VRBO, and Booking.
The user interface provided by the plugin's developers is quite simple, yet very powerful. It includes:
Divided start and end calendars
Time slot for booking, for instance daily, weekly, or overnight bookings
Search features with start and end dates
As the mentioned plugins, this one also is great for non-programmers. This is through its simple and intuitive features.
The Bookings for WooCommerce plugin does not provide a free version. Yet, users have a 14-day money-back guarantee if there are some issues regarding the plugin's operation. The pro version comes out with the pricing below: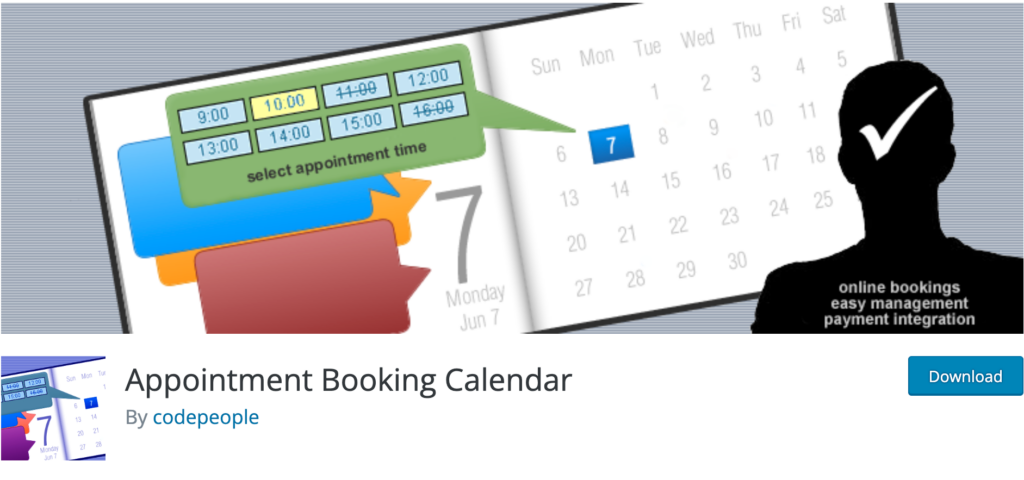 The last tool from our best WordPress booking plugins list is Appointment Booking Calendar. It has more than 3000 active installations and 64 5-stars on WordPress.
Through this plugin, you will have an opportunity to offer online bookings with set time slots and accept booking payments through PayPal.
After booking an appointment the users will receive an editable and personalized email confirmation and notifications.
The appointment calendar is resistant to spam activities due to the captcha option. Also, the printable list for booking and an export option in an iCal format make the plugin more unique and handy.
With this plugin, you will get:
Multi-page calendar
Date format configuration
Minimum/ Maximum date implementation
Gutenberg and Elementor compatibility
Modern Interface for Admin Panel
The Appointment Booking Calendar plugin is available both in free and pro versions. The prices for the paid version are as follows:
Professional – €49.99
Developer – €99.99
Platinum – €149.99
To Wrap Things Up…
The aim of WordPress booking plugins is to provide an easy experience not only for business owners but also for users. So, let's summarize the best WordPress booking plugins' features in the table below:
| Plugin Name | Active Installations | Rating | Pricing |
| --- | --- | --- | --- |
| Bookly | 70,000+ | 302 – 5 stars | $89-$909 |
| Amelia | 50,000+ | 377 – 5 stars | $79-$319 |
| Booking Calendar | 60,000+ | 489 – 5 stars | $79-$649 |
| Bookings for WooCommerce | n/a | n/a | $59-$99 |
| Appointment Booking Calendar | 3,000+ | 64 – 5 stars | €49.99-€149.99 |
It is always important to remember that the plugin should be chosen based on the price-features ratio. You must consider your business needs and capital to invest in a paid booking plugin for WordPress. Yet, if you are not ready to buy a pro version, then in this list you will find highly helpful and feature-rich plugins available totally free of charge.