5 Best AI-Powered Plugins in WordPress
All of us are more or less familiar with the newest technological boom that is called Artificial Intelligence. We meet both good and bad titles about AI every single day. Yet, most companies and businesses greatly benefit from using AI. The innovation of Artificial intelligence has penetrated also WordPress. Some well-known plugins have added AI-related tools and features, as well as many AI-powered plugins, have been developed from scratch to make the user experience even simpler on WordPress. And in this article, we are going to reveal the best AI-powered plugins in WordPress to boost your website operation smoothly.
Cons and Pros of Artificial Intelligence
Before trying to find out the main advantages and disadvantages of AI let's first understand what spheres can benefit from it. So, Artificial intelligence is commonplace in any type of company no matter if it is big, medium, or small. Being a separate branch in Computer Science it helps businesses interact with AI-powered virtual assistants, follow up on production processes, find out the gains and losses of the company's campaigns, etc.
Advantages of AI
Almost any sphere of business operation can get good use of Artificial Intelligence. So, this means that it has many advantages, such as:
It reduces the risk of human-made mistakes and errors. Anyone can make both big and small mistakes that are even natural. When it comes to the human factor it is not too bad. However, the errors made in business can certainly affect its productivity. Here is where AI happens to help people automate some business operations to eliminate the error possibility.
AI is available in 24/7 mode.
Software powered with AI helps people to avoid repetitive tasks. Due to the included datasets, AI can help analyze information and complete some boring tasks automatically by maintaining employees' productive work time.
AI is cost-effective. As it is available all day long completing more tasks per day than humans then companies save a lot of funds by using AI-powered programs and software.
Artificial Intelligence algorithms conduct deep research and analysis.
Disadvantages of AI
As for disadvantages, AI implementation is quite expensive. Sometimes using AI for content creation and in other fields that require human creativity and emotions is not a good idea, at all. This is because AI does not create new content but it processes the already existing information in its database. That is why AI-created content sounds artificial and sometimes lacks emotions. Besides, the majority of AI programs still need human intervention to improve their quality.
5 Best AI-Powered Plugins in WordPress
As you are already familiar with the above-mentioned information about AI it is time to know which are the best AI-Powered Plugins in WordPress.

In first place on our best AI-powered plugins list is AI Assistant with ChatGPT. The plugin scores a 5-star rating on WordPress Plugins Directory. With this tool, you will be able to get precise answers to any of your questions promptly. Not only can website owners or content creators benefit from this plugin but also those who want to write codes with HTML/CSS and other programming languages. This can be done directly on your WordPress site's dashboard.
Besides the mentioned features, AI Assistant will be helpful to provide high-quality support services to your customers. Due to its advanced technology, AI Assistant analyzes your website information and tries to answer the users' questions on a 24/7 basis. To ease the operation with the tool, the plugin's developers offer to use a simple shortcode to implement the support chatbot directly in your website's front end. Any user will meet the support chat by entering your website.
This feature offers great opportunities to answer an unlimited amount of support chats at the same time. The newly added information is adapted in a short period of time to create up-to-date instant responses to users' questions. Besides, if you have website users from all sides of the world then the plugin supports multiple languages for the support services.
In addition, you can improve your website's content and SEO, as well as translate the needed content parts with the AI Assistant plugin.
Pricing
With its many professional features, AI Assistant is available for free installation on WordPress. Yet, if you seek some advanced options like permissions for user roles, copy with a single click, dark mode, front-end chat, a response in a text-to-speech way, etc. then you will be probably interested in the AI Assistant plugin's pro version at this price:
Business – $49
Developer – $129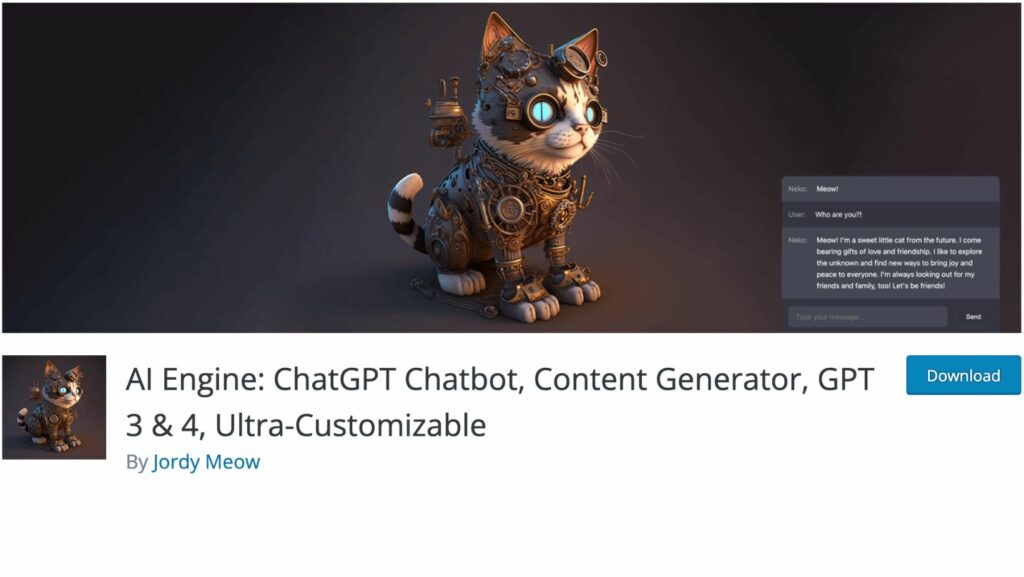 Next comes the WordPress AI Engine plugin with a 4.9/5-star rating. As the first plugin, AI Engine also helps to create a unique chatbot on your WordPress site, as well as implement AI-powered content and images. Other use cases of the WordPress AI Engine plugin include:
AI-connected work coordination with unique templates
AI-generated titles and recommendations
AI Copilot for quicker operation
OpenAI usage tracking
Translation
Content Editing
Search Engine Optimization tools
Product fields for Woocommerce
The plugin is highly customizable. For effective operation, you can make great use of the provided statistics, forms, and limitations.
Pricing
Many of the mentioned features are available in the AI Engine plugin's free version. However, if you want to get some professional tools, such as AI forms, limits, statistics, content awareness, etc. then it would be better to look at one of the paid annual plans provided:
Starter – $49
Standard – $69
Professional – $99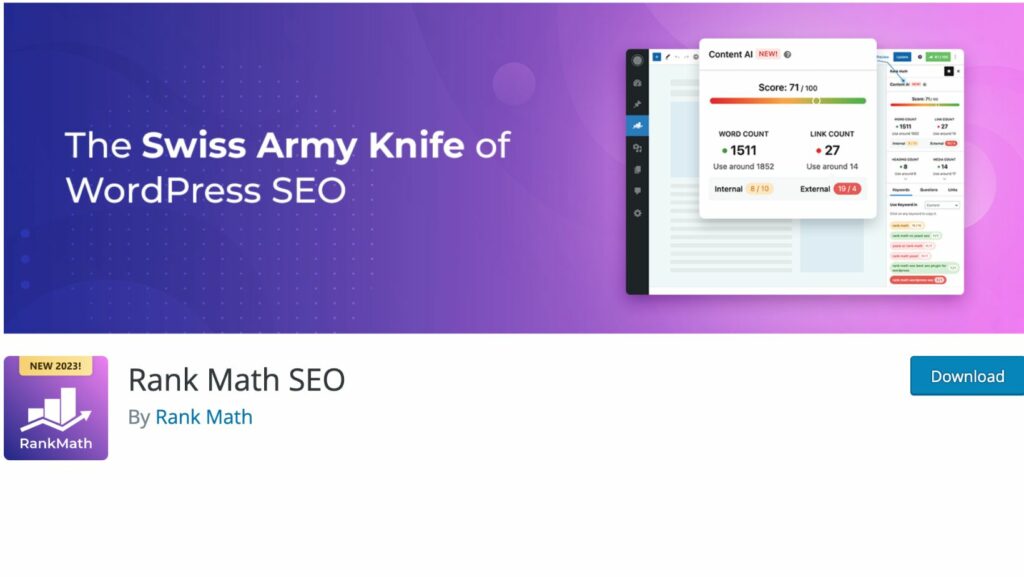 The very first WordPress plugin that has implemented AI in its features is Rank Math SEO. Its rating is 4.9 out of 5 stars. It is initially a dedicated SEO plugin to benefit your WordPress site's ranking on Search Engines.
With the rising demand for Artificial Intelligence, the plugin added many AI-related features to engage more users and ease the operation of WordPress.
With its help, you can generate SEO-friendly content using the plugin's up-to-date suggestions and great improvement recommendations. Also, you will highly benefit from the offered keywords that have been researched with Rank Math's AI beforehand. As the inserted URLs play a big role in page optimization and ranking, AI makes link recommendations, too.
Pricing
If you decided to activate the WordPress Rank Math SEO plugin for its AI feature then you should take into account that the free version offers just 5 content AI credits. To get more credits and surely more important premium features you will need to activate one of its paid plans:
Pro – $59
Business – $199
Agency – $499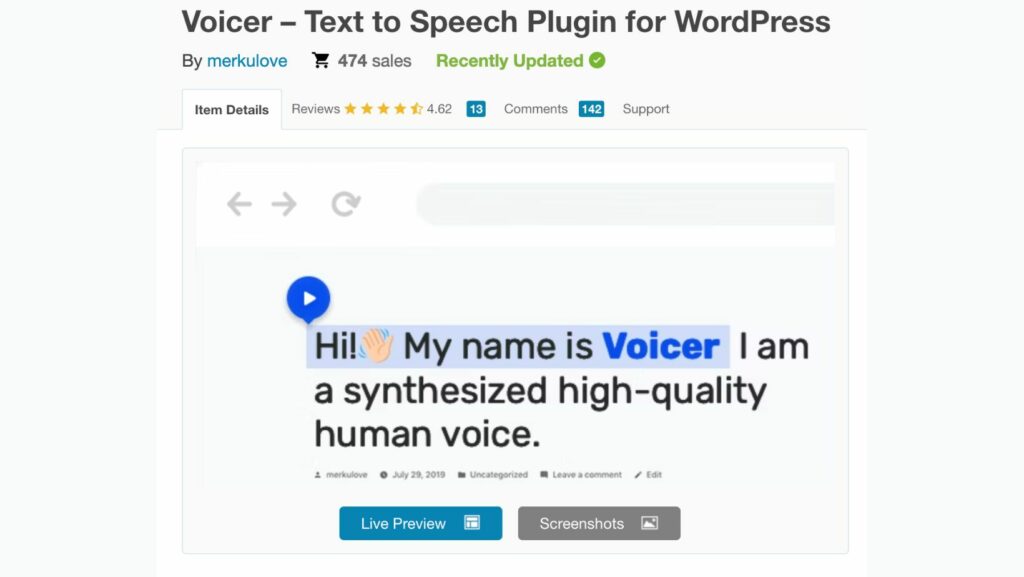 The fourth best AI-powered plugin is Voicer. Having a 4.6/5-star rating it is presented on the Envato Market by CodeCnayon's Elite Author Merkulove. The plugin helps users easily convert texts to speech that does not differ from human voice. The played voice is of high quality as the plugin uses the latest innovation in AI.
One more important advantage of the Voice plugin is that it uninterruptedly works from any part of the world being based on the Google Cloud Platform.
If you choose Voicer to get text-to-speech transformations then you will enjoy more than 310 voices in over 45 languages. The voice research is conducted in WaveNet and Google's neural networks.
The plugin offers WPML and multilingual website support. Also, it greatly works with almost all the well-known WordPress themes and page builders. The Voicer plugin offers cross-browser support and a user-friendly interface.
Pricing
The Voicer plugin does not offer a free version to install. Instead, there are affordable pro licenses at these prices:
Regular – $20
Extended – $99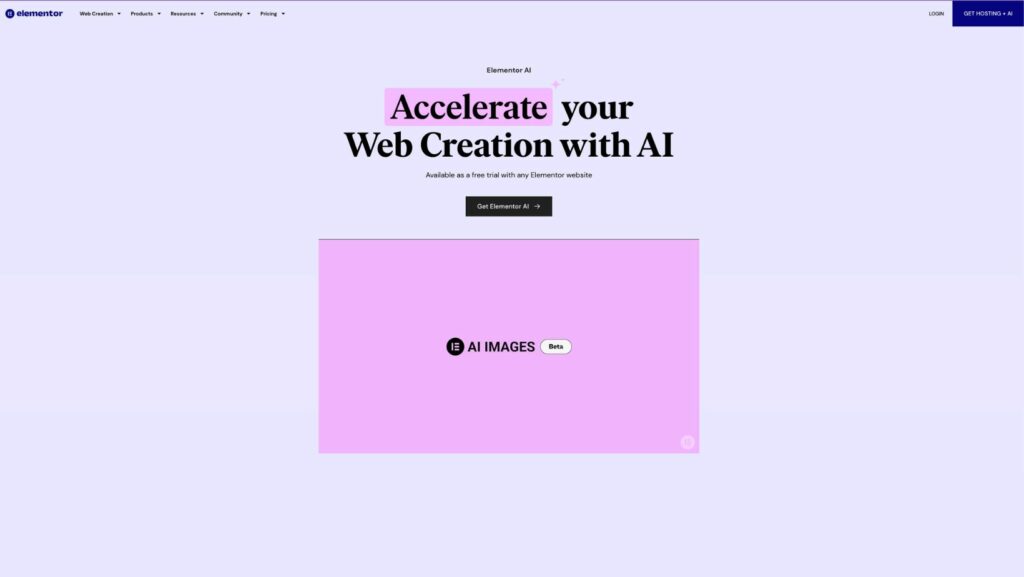 Last but not least plugin from our best AI-powered plugin in WordPress is Elementor AI. It is meant to improve and accelerate the web creation process.
With Elementor AI, you are able to not only generate exceptional visual content but also write content and custom code for HTML and CSS. The advanced Artificial Intelligence used in this plugin enables you to find out and fix grammar and spelling errors and make correct translations to any language you want. By the way, the plugin developers have added the 25 most usable languages in the dropdown list to ease your operation.
One of the most important benefits of Elementor AI is that it is initially integrated into Elementor. So, those websites that use the Elementor Page Builder will get AI directly in the Editor. This is a hassle-free, quick, and easy method to use WordPress.
Pricing
Elementor AI is a paid feature. The purchased plan is non-refundable. Instead, the users have an opportunity to obtain a free trial period and decide on further purchases.
Below you will find its yearly pricing:
Starter – $35.88
Power – $99
In Conclusion
Finalizing the article, we would like to mention that with its great advantages and technological demands AI is a must-have tool on your website. Each of the described plugins can be great additions to your website based on your personal or business purposes. For instance, Rank Math AI will perfectly benefit your website SEO, AI Assistant will help you to provide your customers with high-quality and real-time support service.
AI Engine will be your good choice to generate exceptional content, make adjustments, as well as great translations. If you tend to get high-quality audio from ready-made textual speech then Voicer AI is an ideal variant for it. And finally, if your website is built with Elementor then Elementor AI is an excellent solution for you.